Disability aids
Brief: Design and production of a seat to be used in hospitals incorporating an anti-macrobial agent moulded into the plastic.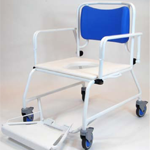 One of our clients provides a wide range of disability aids to retailers, including various sanichairs.
We were recently involved in the production of their bariatric version, which needed to accommodate heavier users of the chair.
We developed the seat, manufactured with rotationally moulded polyethylene incorporating an anti-microbial agent that prevents MRSA growth.
From concepts to production the process took just six weeks – a textbook example of rotational moulding.