Oil Rig Transporter
Client: Reflex Marine
Brief: Develop components to be used in a pod transferring marine personnel from installations to vessels.
Product: Frog 9 pod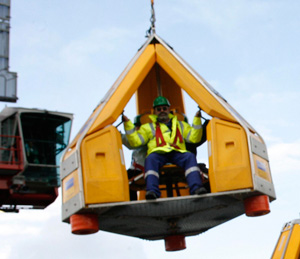 The practice of moving personnel from oil and gas rigs can be precarious, especially in inhospitable weather. Corilla Plastics worked with Reflex Marine on a series of mouldings for its Frog 9 pod – a revolutionary alternative to the traditional rope basket used by helicopters to safely get people off rigs.
The pod is used to transport between six and eight personnel, saving helicopter winching time whilst offering better protection to all on board.
The plastic components are rotationally moulded using a combination of foam filled and non-foamed filled parts – giving strength and durability where needed.
Rotational moulding is the most appropriate manufacturing process for the relatively low production run required, whilst enabling the product to be easily produced in high visibility colours.