Phone housing
Brief: Weatherproof housing for outdoor emergency telephones.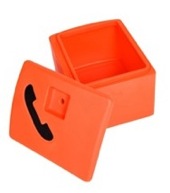 Our brief was to design and produce a robust emergency telephone housing for landline phones in outdoor locations open to the elements; oil rigs, camp sites, road lay-bys.
The overriding requirement was for the box to be weather proof, able to withstand extremely inhospitable conditions to ensure reliability of the phone in an emergency. Rotational moulding proved to be an effective manufacturing process thanks to the added strength and durability provided by uniform wall widths and toughened corners.
To increase protection from the elements, we also added a rubber seal around the door and cabinet. Bright orange was chosen to give the box high visibility, another standard feature offered by rotational moulding.